---
1987 America's Cup First Day Cover and
5 Souvenir Stamps in Presentation Folder
Autographed by Dennis Conner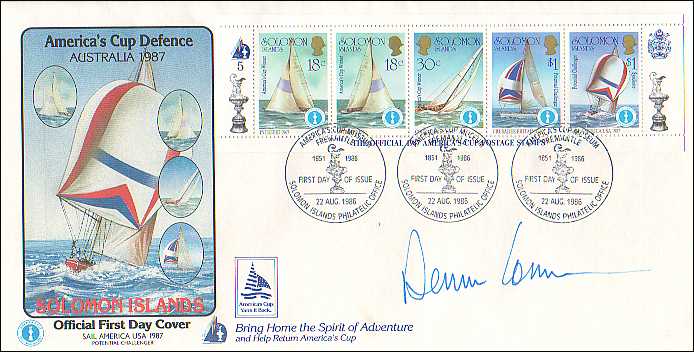 Here is a rare 1987 America's Cup First Day Cover autographed by Dennis Conner and a Mint Sheetlet of 5 stamps issued August 22, 1986 by the Solomon Islands to highlight the 1987 America's Cup race. The Australians had won the cup from the Americans in 1983 so the race was held in Fremantle (near Perth), Australia in 1987. The Americans led by Dennis Conner were determined to win and their slogan was, "America's Cup - Yank it Back." And yank it back they did with four straight wins by Star & Stripes over the Australian's Bond Syndicate boat.

The beautiful First Day Cover bears the sheetlet of five stamps with a first day cancel from the America's Cup Museum at Fremantle. Moreover, it is autographed by Dennis Conner, 4-0 winner of the race.

The First Day Cover, 5-stamp souvenir sheetlet, and an insert explaining the subjects of the five stamps (former America's Cup winners from 1967, 1970, and 1974, Stars & Stripes plus Britain's Crusader for the 1987 race) comes in a large presentation folder (10" x 12"). Individual items can be framed or left in the folder for safekeeping and showing to friends. A section of the presentation folder is shown below.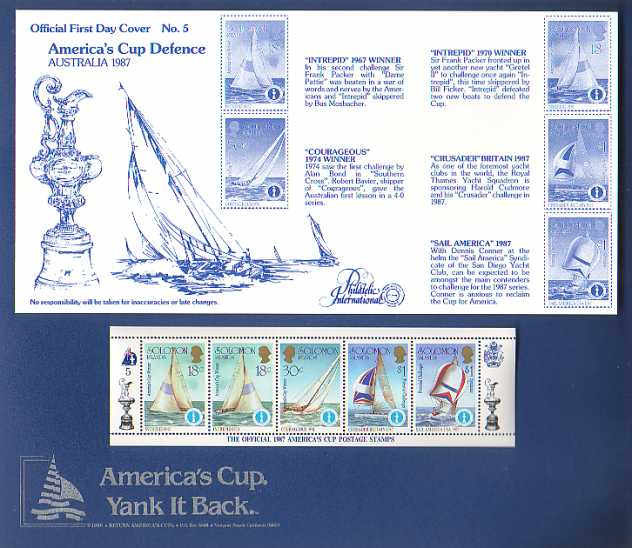 The folder with first day cover (not autographed) and mint sheetlet were sold in 1986 for $29.95 by the "Return America's Cup" Syndicate to raise money for the 1987 race. Here's your chance to get it at a bargain price. Price for FDC and mint sheetlet in presentation folder is only $19.95.
Packaging and postage for this sheet with a stiffener via first class mail is only $2.00 for any address in the USA. If you buy other items, you can combine them for lower postage cost.
Ask about my other America's Cup, boating, sailing, and maritime covers, stamps, and souvenir sheets.