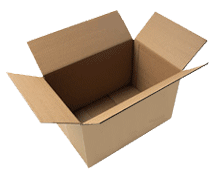 Here you'll find hundreds of bargains in stamps, plate blocks, covers, FDCs, postal history, and much more. It's a great eclectic mix like you'd find in the bargain bins at a stamp show, except you can look through the boxes in the comfort of your own home. Just hit the right arrow to go to the next box or the left arrow to go back to the last box.
Prices are unbelievably low and if you put a number of things together, I'll give you an additional discount and you'll save on shipping.
I have only one of each item! To make sure you get what you want, you can e-mail me at SwapMeetDave@aol.com and I'll set aside the items you want and ship them upon receipt of your check or money order. I also accept Pay Pal (to SwapMeetDave@aol.com) but I must ask PayPal users to add 3% to partially cover the PayPal commission. Send your order with payment to David Ahl, 12 Indian Head Road, Morristown, NJ 07960. Thank you!
Iraq "WE SAY YES, SADDAM" 1997 Referendum Day
100 Dinar stamp on cover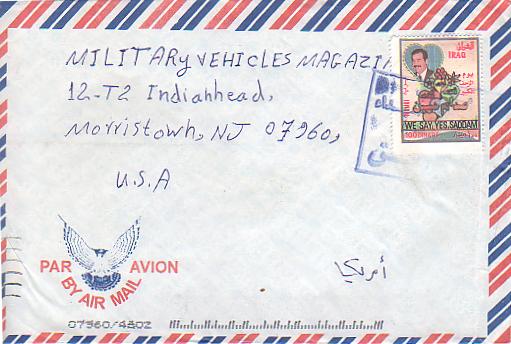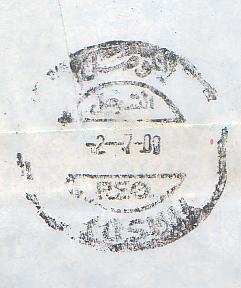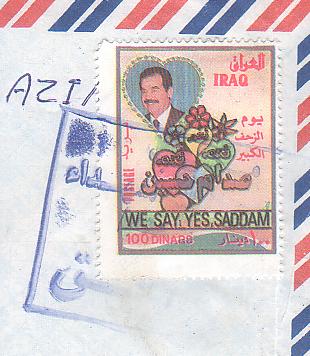 Iraq 1997 2nd anniversary of Referendum Day 100-dinar stamp on an airmail envelope from Mosul, Iraq to Military Vehicles Magazine in Morristown, New Jersey, USA. The envelope is poorly made and printed on lightweight stock. It measures 6.9" x 4.5" and the red and blue airmail border is poorly centered. The 100-dinar stamp is also typically poorly centered. It bears an inscription in English in black capital letters, "WE SAY YES, SADDAM." It is the higher value of a set of two stamps (25 and 100 dinars) and a souvenir sheet. Catalog Scott #1528 and Stanley-Gibbons 2024.

The stamp tends to sell for about $5.00 mint. It is seldom seen used and extremely scarce on cover. The backstamp is dated 2-7-00 (July 2, 2000).

Packaging and first class postage is FREE to any address in the USA. Ask about foreign mailing costs.

This amazing, historic cover can be yours today for the unbelievably low price of only $8.50 postpaid.

If you look at this cover and don't bid, please e-mail me your name so I can let you know about future FDC, stamp, and cover auctions. I'm selling off about 8,000 items and it's going to take a while.

If you have a question about this or other auction items, click on the send mail button below and I will answer it promptly.