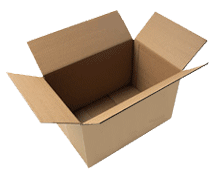 Here you'll find hundreds of bargains in stamps, plate blocks, covers, FDCs, postal history, and much more. It's a great eclectic mix like you'd find in the bargain bins at a stamp show, except you can look through the boxes in the comfort of your own home. Just hit the right arrow to go to the next box or the left arrow to go back to the last box.
Prices are unbelievably low and if you put a number of things together, I'll give you an additional discount and you'll save on shipping.
I have only one of each item! To make sure you get what you want, you can e-mail me at SwapMeetDave@aol.com and I'll set aside the items you want and ship them upon receipt of your check or money order. I also accept Pay Pal (to SwapMeetDave@aol.com) but I must ask PayPal users to add 3% to partially cover the PayPal commission. Send your order with payment to David Ahl, 12 Indian Head Road, Morristown, NJ 07960. Thank you!
---
55 U.S. Bicentennial Covers in 3 Gorgeous Albums ~ 1976-81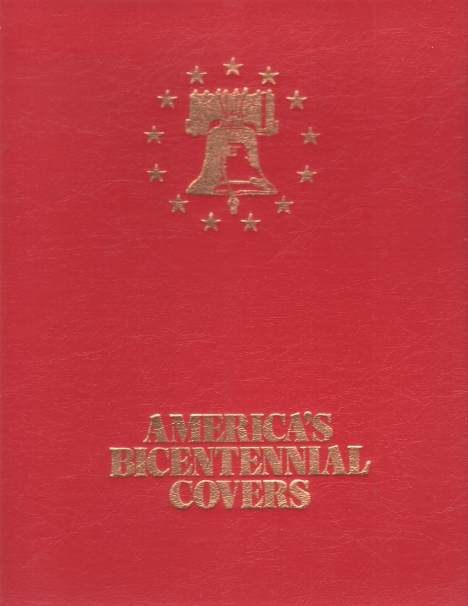 These three gorgeous large albums in this lot provide a comprehensive history of the U.S. from the "shots heard round the world" in 1976 to the surrender of Cornwallis at Yorktown in October 1781. Each year has a 2-page introduction followed by 9 or 10 events, each on 2 pages with a corresponding historic philatelic cover bearing appropriate stamps canceled on the 200th anniversary of the event. At the end of each year is a map showing all of the key events.

The limited edition covers are steel engraved by Artcraft on oversize 7½" premium ivory linen envelopes for the Westport Collectors Society. The covers include ones with stamps and cancels from the U.S. as well as foreign countries such as France, Spain, Canada, and Great Britain. Each cover has a stiff insert with information about the stamps on the cover and the cancellation. Along with the event covers, the albums contain several First Day Covers (issue day of the stamp), which dealers sell for $5.00+ each.

The 10" x 11½" albums have heavy red vinyl covers. Each album has 46 Mylar-covered oversize pages covering two years of history. The three albums packaged in a shipping carton weight 14 pounds. I charge only for the exact cost of the carton and postage.

These albums are a fantastic way to learn about the history of our country. Now they can be yours at a fraction of the 1976-81 issue price. Yours for only $69.95!

Click on any image below to see it full size.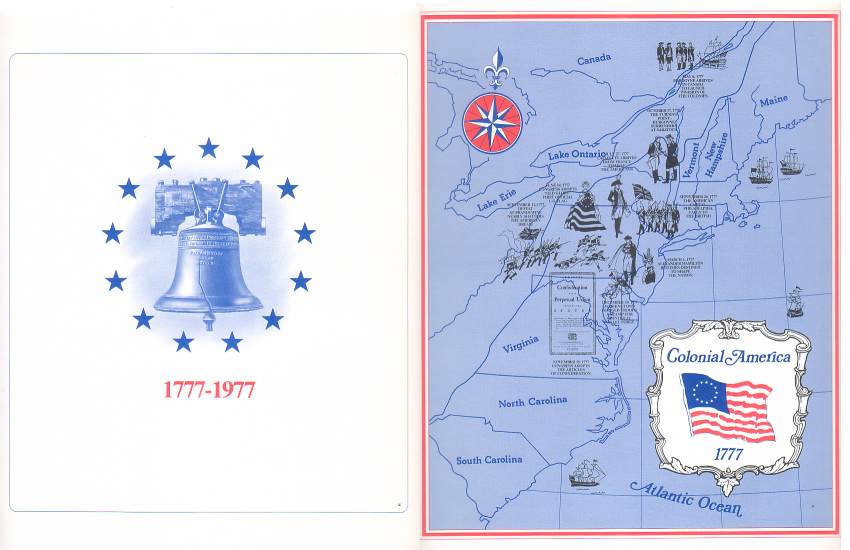 U.S. Bicentennial album pages of 1977 - Opening page and map on last page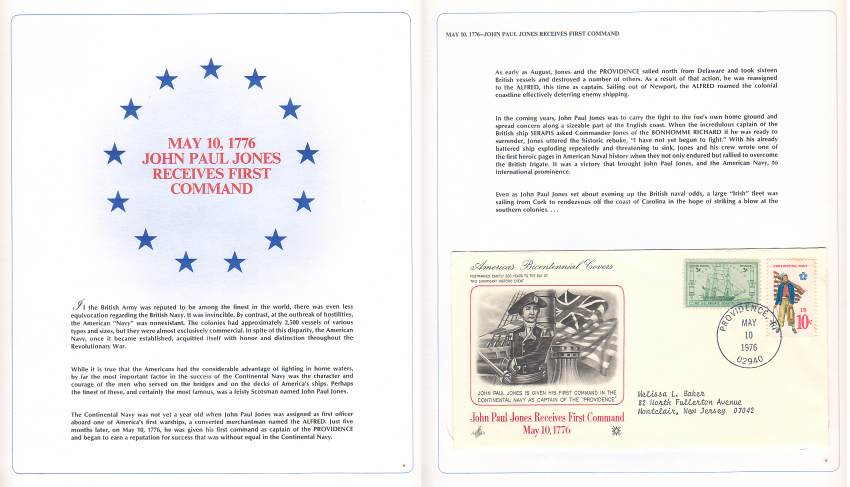 U.S. Bicentennial album pages of May 10, 1776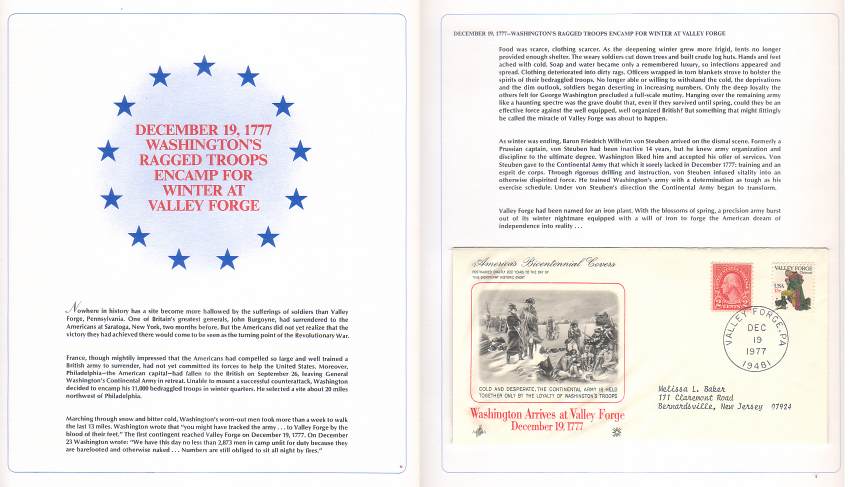 U.S. Bicentennial album pages of December 19, 1777


| | | | |
| --- | --- | --- | --- |
| Event cover, March 17, 1776 | Cover, Canada, May 6, 1777 | Event cover, UK, April 22, 1778 | First Day Cover, May 4, 1778 |
| Event cover, Spain, June, 21, 1779 | Cover, Denmark, Feb. 29, 1780 | Event cover, May 29, 1781 | Insert for cover above |