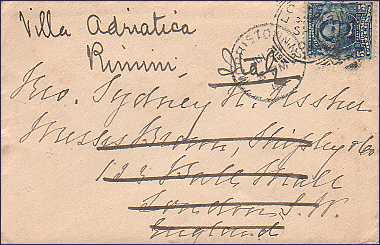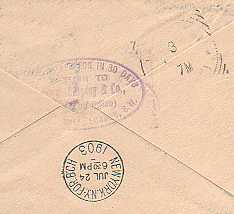 Above is a cover bearing a 5c stamp, Scott 304, to pay international postage to Brown, Shipley & and Co. in London, England. Brown, Shipley was a tour operator and the piece was actually intended for a person on one of their tours. Hence, from London it was forwarded to Villa Adriatica, Rimmini, Italy, where the tour was at that time.

The first cancel on the stamp was from Morristown, NJ, July 24, 1903, 3:00 p.m. The next cancel is a backstamp from New York, NY Foreign Branch on July 24, 1903, 6:30 p.m. There is a second face cancel from London, England, Sept 1, 1903. On the back is also a purple rubber stamp from Brown, Shipley plus another indistinct cancel from London.

Price for this amazing piece of postal history is just $30. To make sure you get what you want, you can e-mail me at SwapMeetDave@aol.com and I'll set aside the item(s) you want and ship them upon receipt of your check or money order. I also accept Pay Pal (pay to my account: SwapMeetDave@aol.com). Send your order with payment to David Ahl, 12 Indian Head Road, Morristown, NJ 07960. Thank you!