Brief Background
Georges Prosper Remi was born into a middle-class family in Etterbeek, Brussels on May 22, 1907. As a youngster, he was keenly interested in Scouting, something that would prove highly influential on his later work. He initially produced illustrations for the Belgian Le Boy-Scout magazine, including an illustrated story, Les Aventures de Totor, C.P. des Hannetons (The Adventures of Totor, Patrol Leader of the Cockchafers (UK) or Maybugs (the more common translation). In1927 he began working for the conservative Catholic newspaper Le XXe Siècle, where he adopted the pen name "Hergé," based upon the French pronunciation of "RG," his initials reversed.
After Totor came a number of short-lived characters such as Tim the Squirrel, Tom and Millie (Tim had morphed into a bear cub named Tom), Fred and Mile, Mr. Mops, Popol and Virginie, and Dropsy. But by far his best-known character was Tintin, the star of a series of 24 book-length adventures (one uncompleted), which he wrote and illustrated from 1929 until his death in 1983. He also created two other well-known comic book series, Quick & Flupke (1930-1940) and Jo, Zette and Jocko (1936-1957).
Two pages of Tintin in the Land of the Soviets first appeared on January 10, 1929 in black and white on the pages of Le Petit Vingtièm e a weekly youth supplement to Le Vingtième Siècle, the renamed Le XXe Siècle. The story, which ran until May 8, 1930, chronicled the adventures of a young reporter named Tintin and his pet fox terrier Snowy (Milou) as they journeyed through the Soviet Union.
A year later in January 1930, Quick & Flupke, two street urchins from Brussels, made their debut in what was to become a series of 310 self-contained two-page comic strips (called "gags" in Europe). The Quick & Flupke strips were especially clever because many of them had both a visual gag and a verbal one. This makes them somewhat difficult to translate into other languages when the verbal gag involves a pun or rhyming words in French. (I should know, having translated 48 of these strips). Hergé says, "I had to abandon these rascals (in 1936) because they were causing me a lot of worry as I became increasingly occupied with Tintin." Two pages of Tintin continued to appear every Thursday until May 1940, when the Germans invaded Belgium.
As the war progressed, paper shortages forced Tintin to be published in a daily three- or four-frame strip, which meant that Hergé had to introduce more frequent gags and faster-paced action. Also, in order to avoid controversy, the focus of the adventures had to be moved away from current affairs.
In 1943 Hergé met Edgar P. Jacobs, another comic artist, whom he hired to help update, revise, and redraw the early Tintin albums. Tintin was always credited as simply "by Hergé," without mention of Edgar Jacobs, Bob de Moor, or any of Hergé's other assistants. As Jacobs' contribution to the production of the strip increased, he asked for a joint credit, but Hergé refused. Nevertheless, they continued to collaborate until 1946, when Jacobs left to produce his own comics for Tintin Magazine, including the widely-acclaimed Blake and Mortimer series.
Almost all of the Tintin adventures have a vivid humanism and a realistic feel produced by meticulous and wide ranging research, and, of course, Hergé's drawing style. Even adults enjoy Tintin for the many satirical references to the history and politics of the 20th century.
Hergé died on March 3, 1983 at age 75, having become a prominent national hero in his native Belgium. An Hergé Museum was opened in Louvain-La-Neuve in June 2009. And to this day his work remains a strong influence on comic artists, especially in Europe.

The Philately of Hergé


For several reasons, collecting stamps and covers related to Hergé and Tintin is not as easy or straightforward as might be expected. There are any number of web sites that focus on Hergé and Tintin philately, most of which are woefully inadequate and incomplete. But how complete is complete; how big a circle do we wish to draw?
Do we include the Belgian 1993 metro station postcard that depicts a mural by Hergé of Tintin characters? Of course. Do we include the Belgian 1999 block of nine stamps of the Comic Strip Museum? Yes, because the center stamp pictures a model of Tintin's moon rocket ship. How about the 2012 Visit Belgium Europa stamp? Yes, it also depicts Tintin's moon rocket. Do we include the Singapore/Belgian 2005 issue picturing shophouses in both countries? Probably, because the low-value stamp is the Belgian Comic Strip Museum. Do we include the Algerian 2011 stamp honoring Comic Art at the 9th Arts Festival? Possibly, because Hergé hugely influenced comic art in French-speaking Algeria and nearly every cachet on First Day Covers for the stamp pictures Tintin. Do we include the Belgian stamps honoring Edgar Jacobs? Probably not, because that would open the door to every comic artist who worked with Hergé or was influenced by him. How about a stamp where Hergé's drawing of a compass is incorporated into the design? I think not.
We get into muddier waters as we look at stamps and postal stationery of China, India, Romania, and Guinea Bissau as well as personal stamps issued in Belgium, Netherlands, and Canada. There are also some "illegal" stamps issued by Angola and other entities not recognized by the UPU as well as many cinderella stamps and labels.
Complicating matters further are the many varieties of postal stationery, some privately produced on legal postal cards, most of which are not cataloged. And finally, there are the out-and-out counterfeits and fakes.
As of year end 2014, there have been 29 legitimate issues by ten countries of stamps, sheets or postal stationery comprising at least 95 separate items related to Hergé. If we add in the Belgian duostamps (read on) and unofficial items, the tally is well over 200 items.



Click on any image or colored text for a full-size image of the stamp or cover

Belgium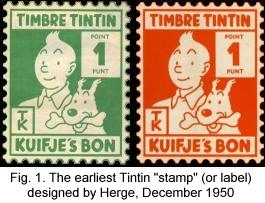 As the birthplace of Hergé, who later became a national hero of the country, we would correctly expect the most issues honoring Hergé to be from Belgium. The first time an image of Tintin appeared on what appeared to be a stamp was in Tintin magazine, December 13, 1950 (Fig. 1). The top, in French, read, "TIMBRE TINTIN" and the bottom, in Dutch, read "KUIFJE'S BON," in other words, "Tintin stamp." This design was licensed for use on several products in the 50's such as stationery, chewing gum, chocolate, and the mailing envelope for a collection of small colored photographic scenes of Belgium. This is not an actual postal item but is interesting as being the first "stamp" designed by Hergé.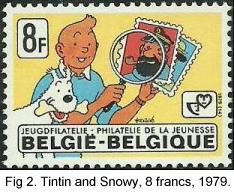 The first actual postage stamp was issued by Belgium on Sept. 29, 1979 and featured a drawing of Tintin and Snowy looking through a magnifying glass at several stamps (Fig. 2). This 8-franc stamp, Scott 1036, was issued in a sheet of 30. Interestingly, the cachet on the official Belgian Philatelic Bureau First Day Cover picturing elements from various Tintin stories was not drawn by Hergé but rather by the commercial illustrator Chesnot (Fig. 3).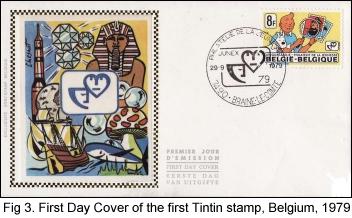 As mentioned above, the Boy Scout Patrol Leader Totor was Hergé's first character, so it was only appropriate that a second ceremony for the stamp took place at the BeNeLux Scouts Philatelic Convention on October 27, 1979 (Fig. 4).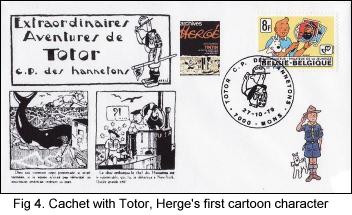 In 1984 to replace telegrams, Belgium Post introduced the "Postogram," an express delivery type of product for the price of 50 francs, each one of which included an illustrated card. Often overlooked in Tintin philately was the 1991 Postogram illustrated with the Tintin cast of characters holding champagne flutes (Fig. 5).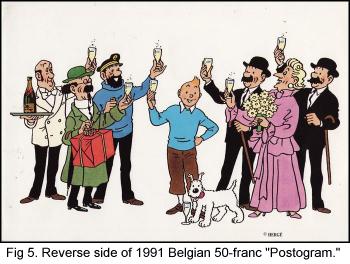 Also often overlooked was the postal card of a Brussels metro station issued October 16, 1993. Pictured on both the card and the indicia is a mural designed by Hergé with a wide range of characters from various Tintin stories (Fig. 6).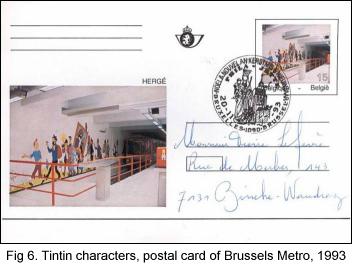 Dominating the entry hall of the Belgian Comic Strip Museum is a huge model of Tintin's moon rocket that carried Tintin and his friends to the moon in 1953, sixteen years before Neil Armstrong stepped onto the lunar surface on July 21, 1969. So it was only appropriate that the center stamp, Scott 1771e, of the nine-stamp block for the museum issued October 2, 1999 depict the moon rocket (Fig. 7). An FDS of this sheet is also available.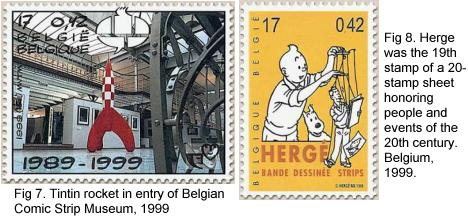 Two months later on Dec. 4, 1999, as part of the first of four 20-stamp mini-sheets called "A Tour of the 20th Century," Hergé as a marionette being worked by Tintin, was the 19th stamp on the sheet, Scott 1779s (Fig. 8). First Day Covers of blocks of these 1999 stamps are sometimes seen, but an FDS of the entire 20-stamp sheet is more common.
On the last day of 2001, Belgium and the Democratic Republic of the Congo jointly issued a stamp with Tintin in a pith helmet and a souvenir sheet with a single stamp in the center of Tintin driving with an African boy. Tintin in the Congo was Hergé's second story and deemed by some people to be politically incorrect. In fact, the book today is sold with a wide red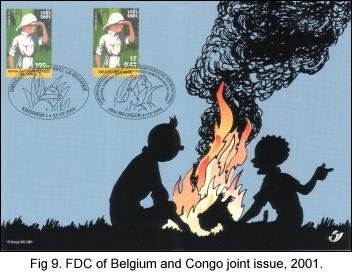 sealing band around it stating, "Collector's Edition." Obviously, the people in the Congo weren't the least bit offended if they were willing to participate in a joint stamp issue. A nice piece is the official memorial card from Belgian Post with first day cancels of both stamps (Fig. 9).
Both souvenir sheets had the same design, although the Congo one (Scott 1614) carried a quite high denomination of 461 Congolese francs, 2.4 times the value of single stamp (Scott 1613). The country was so proud of the stamp and souvenir sheet that nine years later they overprinted them and sold them as souvenirs of their exhibit at the 2010 Shanghai Expo (Fig 10).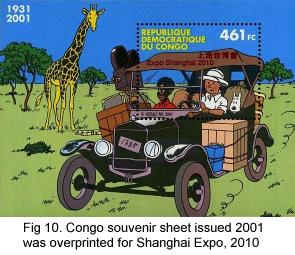 On July 5, 2003, in a series of five stamps picturing popular statues, a statue in Brussels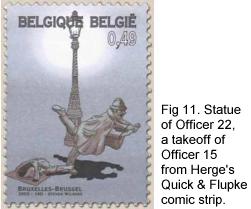 by Tom Frantzen, De Vaartkapoen (Officer 22, a takeoff on Hergé's Officer 15 from the Quick & Flupke strip), Scott 1965, denominated at 0.49 €, was the fourth stamp in the group (Fig. 11).
On March 15, 2004, Belgium issued a souvenir sheet of five stamps, Scott 2003, again honoring Tintin's popular lunar voyage, although the first stamp in the strip was a photo of Hergé himself (Fig. 12).
A year later, Quick & Flupke finally got their turn, but only as a black-and-white illustration from the strip, "A chacun son tour," on the left side of a stamped postal card of King Albert II produced for the Tintin Festival in Brussels on July 23, 2005 (Fig. 13).


In September of 2005, a souvenir sheet of the Comic Strip Museum was jointly issued with Singapore, which we'll cover with Singapore.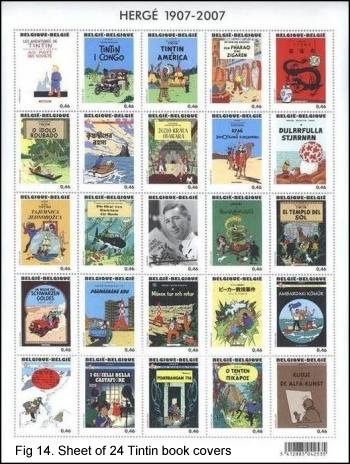 A full sheet of 25 stamps, Scott 2234, picturing all 24 Tintin book covers (in 24 languages!) plus a portrait of Hergé was issued on May 22, 2007 for the 100th anniversary of the birth of Hergé (Fig 14). These stamps carried a denomination of 0.46 €. FDCs on maxi-cards picturing the book cover with the matching stamp are very attractive but becoming quite scarce.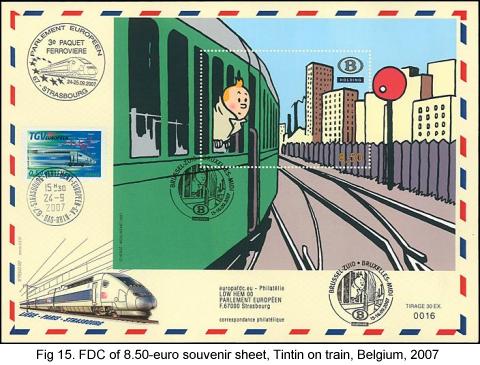 On September 15, 2007, Belgium Railways issued a Railway Letter Stamp souvenir sheet with a single 8.50-euro stamp showing Tintin on a train. Along with its matching note card, this has become one of the most elusive Tintin items of all time. The first day usage on Sept. 15, 2007 was on three high-speed rail routes from Brussels, Antwerp or Liege to Paris and Strasbourg with a return journey on Sept 24, 2007. The cancel for the trip originating in Brussels matched the design on the stamp (Fig. 15).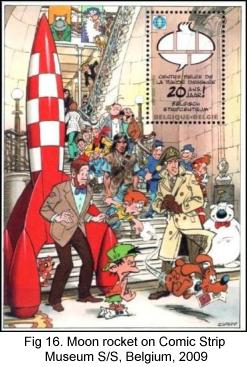 Continuing to garner attention, another souvenir sheet for the Comic Strip Museum, Scott 2399, was issued on October 5, 2009. Tintin's moon rocket dominates the design and his distinctive swept back lock of hair is on the blank speech balloon on the stamp, but interestingly, no Hergé character appears on the sheet (Fig. 16). Although produced by Belgian Post, an FDC of the stamp alone is seldom seen.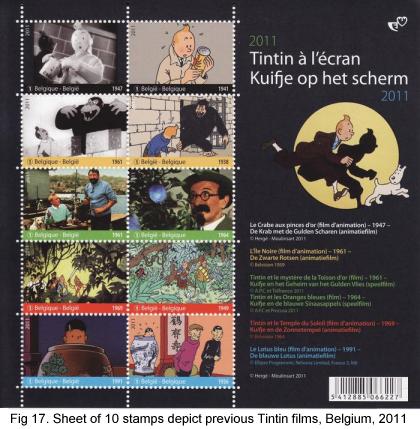 To debut the release of Spielberg's Tintin movie, a souvenir sheet of ten stamps picturing scenes from ten previous Tintin films was issued on August 29, 2011 (Fig. 17).


As part of the Europa omnibus issue, on February 13, 2012, Belgium issued a souvenir sheet of two stamps with the theme of Visit Belgium, Scott 2550. In the center is Tintin's stylized face and on the left stamp is, yet again, Tintin's moon rocket (Fig. 18). This souvenir sheet is on both an FDC and FDS.
Later on September 17, 2012, Belgium issued a souvenir sheet honoring ten different comic strips, Scott 2591. In the center, Tintin and Snowy have the place of honor on the sheet (Fig 19). FDCs of the stamp alone are quite scarce.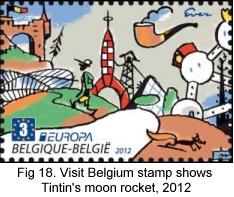 Starting in 2001 and continuing today, Belgium has been issuing "duostamps" for subjects such as movies, birthday parties, Disney, Harry Potter, and comic book characters, like Tintin. Each duostamp has a rectangular label with an image at the left and at the right a square stamp, usually in red and black with the Belgian Post symbol. A duostamp is good for the current letter rate, e.g., 0.49 € in 2007, however, they are priced at slightly more than twice the face value (4.99 € for a strip of five in 2007). The labels are not for personal images or photos as in the U.S., Canada, Australia, etc. but carry designs selected by Belgian Post.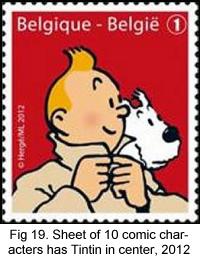 On average, about ten sheetlets with 5 designs per sheet are issued per year. Some duostamps are produced in sheets of 15 (label plus stamp) and sold that way, but more commonly they are packaged in vertical strips of five in a plastic envelope.
Some duostamps are released in conjunction with a special event (festival, museum opening, etc.) for which Belgian Post might have a special cancel but most are issued with little fanfare so First Day Covers per se do not exist. From 2001 through 2010, more duostamps have been issued for Hergé and Tintin than any other subject (at least 80 designs). An interesting duostamp strip from 2008 pictured five of Hergé's comic strips: Totor, Tom and Millie, Quick & Flupke, Jo, Zette, and Jocko, and, of course, Tintin (Fig. 20). Click here to see images of some other duostamp strips: Anniversary | Automobiles | Character Portraits (15) | Dangers | Festivals | Flying Planes | Marine Scenes | Undersea | Thompsons | Scenes | Travel | Seated Travel | Blue Lotus | Tintin with Toys | Two Used Singles.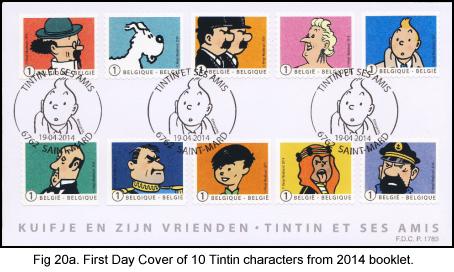 Not marking any special anniversary or occasion, on April 19, 2014, Belgium issued a booklet of 10 stamps called "Tintin and Friends" depicting Tintin, Castafiore, the Thom(p)sons, Snowy, Prof Calculus, Capt Haddock, Abdallah, Tchang, General Alcazar, and Nestor (OBP 4404-17, booklet 146). Compared to previous Tintin stamps, these are very simple designs with no background scenery whatsoever, just the face of the character against a single-color background.
Following their usual custom, Belgian Post produced First Day Covers of the booklet (Fig 20a), but the individual stamps were separated and placed in two rows of five at the top and bottom of the envelope. These were clearly produced only for collectors as there is no place for an address and there is not even a hint that the envelope could actually be mailed. A First Day Sheet (FDS 1407) was also produced with the same layout of stamps as the FDC. [By the way, these cost €5.25 from Belgium Post but dealers are selling them to U.S. collectors for $31, which is certainly enough to discourage anyone from collection Belgium stamps.]



Click on any image for a full-size image of the stamp or cover.
For additional images, click on items shown in BLUE type.


Netherlands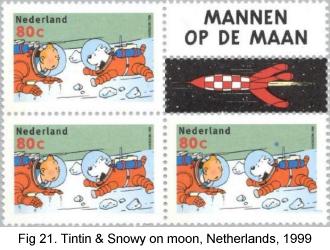 The Netherlands (Holland) being the northern neighbor of Belgium, and with the people in the north of Belgium speaking Flemish, a variety of Dutch, and with Tintin (Kuifje) being translated into Dutch early on, one would expect the Netherlands to be on the Tintin stamp bandwagon. And, indeed, on October 8, 1999, they were the second country to issue a Tintin stamp. The issue was somewhat complicated consisting of a booklet of five stamps plus a double tab, Scott 1893b, which pictured Tintin and Snowy on the moon (Fig. 21). A second stamp, Scott 1893a, picturing Capt. Haddock and Tintin, was coupled with the Tintin/Snowy stamp in a souvenir sheet (Fig. 22).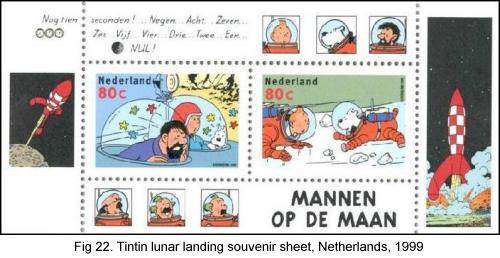 Collectors and album producers seem to be divided as to whether to collect the two single stamps (one being removed from the souvenir sheet), or the souvenir sheet plus the booklet pane of five stamps plus tabs or a block of three plus tabs.
Many first day covers have been produced for the Tintin/Snowy single stamp, Scott 1893b, the souvenir sheet on an envelope and the souvenir sheet on a page, but very few for the Haddock stamp, Sc 1893a.
Like many other countries, the Netherlands offers personal postage stamps (Persoonlijke Postzegels) and at least one enterprising dealer (Collector World) furnished images for several high quality sets of Tintin stamps. These are sold today at usurious prices but, of course, are not official issues (Figs. 23).

France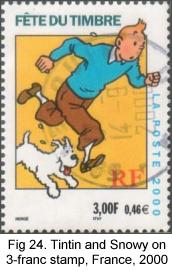 In France, starting in 1938, one day each year was designated as Stamp Day (changed to Stamp Festival in 2000). Since December 1944, La Poste (French Postal Service) has issued a stamp on that day which, until 1999, focused on French postal history. However, starting in 2000 the subjects have been ones deemed to be attractive to young collectors, mainly stories or comic book heroes. An interesting aspect of the event is that it takes place throughout the country in every town and city with an active Philatelic Association.
In the year 2000, Tintin and Snowy running together was the single design for a new stamp (Fig. 24), but the issue was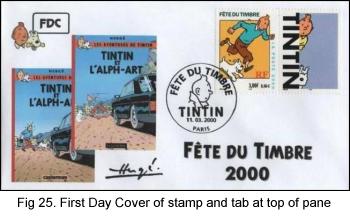 incredibly complex. The basic stamp with a value of 3.00 francs (0.46 euros), Scott 2764, was issued in panes of 40. A booklet of 7 stamps was also issued with the four stamps on the left side of the pane being denominated at 3.00 f and the three on the right being semi-postals of 3.00 f + 0.60 f to benefit the French Red Cross. The eighth position in the booklet was a tab simply reading "Tintin." Thus, perhaps the most desirable First Day Cover has become one with the stamp and tab from the top of the booklet (Fig. 25).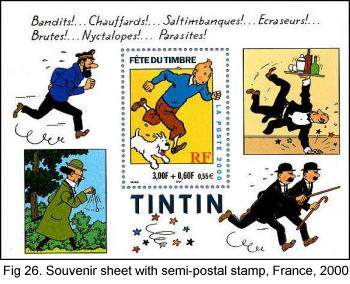 In addition, a souvenir sheet with the semi-postal stamp was issued (Fig. 26). And if that weren't enough, matching stamped envelopes with notecards were issued: five in 2000, two in 2002, and two "luxury" ones in 2003. Designs were on both the envelope and insert (Fig 27). Click to see each envelope and insert: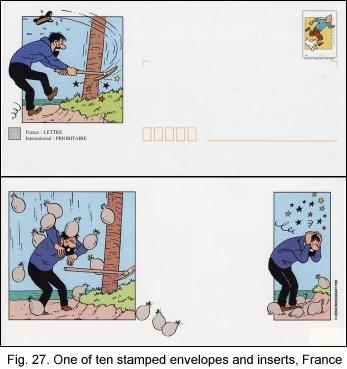 Env. 1, Tintin
Env. 2, Snowy
Env. 3, Calculus
Env. 4, Haddock
Env. 5, Thomsons
Env. 6, Lunar trip
Env. 7, Celebration
Luxury env, Igloo
Jumping the gun a bit on 100th anniversary of Hergé's birth, on May 12, 2007, France issued six stamps called The Voyages of Tintin. This suggests the stamps represent different stories, which they might, although they actually depict six different characters that appear in many Tintin stories. Denominated at 0.54 euros, these were issued in sheets, Scott 3329-34, as well as all six in a single souvenir sheet (Fig 28).
Some towns in France are rather lenient with the use of canceling devices at the Stamp Festivals and thus one can find covers with first day or festival cancels on fake stamps, cinderellas, labels, or even nothing at all popping up for sale.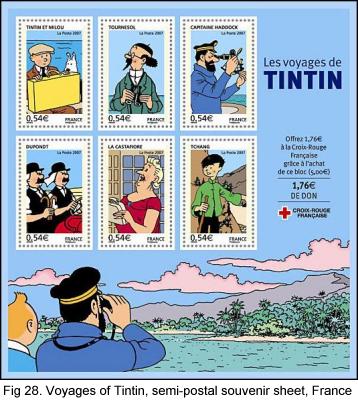 One should be especially cautious of covers coming from Guebwiller or Illzach, Alsatian towns near the border of Germany and Switzerland. Covers labeled "Centenaire de sa Naissance d'Hergée - 2007" from Guebwiller or "Bedecine 2000" from Illzach , even if they are also labeled "FDC" are almost all fakes (Fig. 29).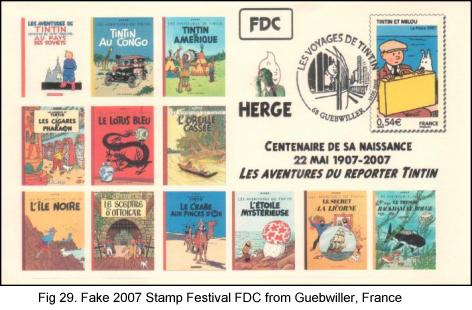 Singapore
As mentioned above, Singapore had a joint issue with Belgium on September 9, 2005, of four stamps depicting similar "shophouses" in both countries, two in Brussels and two in Singapore. The stamps were issued both in sheet form and as a souvenir sheet with all four stamps, Scott 1160a. The lowest value stamp for the basic letter rate (23¢) carries the notation "1st Local" in Singapore and has an image of the Belgium Comic Strip Museum (Fig. 30). On a souvenir sheet of 8 stamps and 8 labels, several labels are scenes from Tintin stories.
The corresponding Belgian issue, Scott 2104, which came out a day later on Sept 10, was issued only in sheet form, two with the value of 44 francs and two valued at 65 francs. A very nice piece is an oversize First Day Cover with all four stamps from both countries (Fig. 31).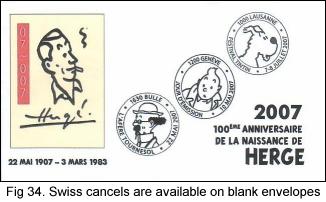 As with France, jumping the gun a bit, Switzerland issued two stamped picture postcards in Geneva on May 10, 2007 in honor of the 100th anniversary of Hergé's birth. A vertical design pictured the Hotel Cornavin with Tintin and Haddock walking up the steps. A horizontal design pictured a Swissair bus in front of the Hotel Beaujolais. First Day of Issue (Jour d'emission) cancels were provided in Geneva on May 10. Pictorial cancels were also offered for L'Afere Tournesol (The Calculus Affair) in Bulle on May 22, 2007 and at the Tintin Festival in Lausanne on July 7-8, 2007 (Figs. 32-33). As with their neighbor, France, Switzerland makes cancels available on almost anything, blank envelopes included (Fig. 34).

Guinea Bissau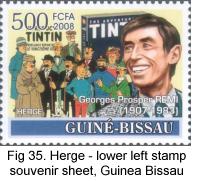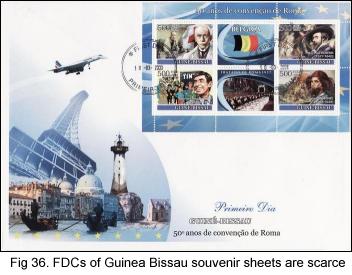 A former Portuguese colony, Guinea Bissau is a tiny, incredibly poor nation sandwiched between Senegal and Guinea on the west cost of Africa. To earn some foreign exchange, they happily issue postage stamps for collectors, most of which will never see anything but a stamp album. Thus on March 10, 2008, they issued a colorful souvenir sheet of four stamps and two labels (Michel 3744-47) honoring the 50 year anniversary of Belgium signing the Treaty of Rome. Featured on the sheet are the Nobel Peace Prize winning microbiologist Jules Bordet, the Baroque painter Peter Paul Rubens, Renaissance painter Pieter Bruegel, and our friend Georges Remi, aka Hergé along with a number of his Tintin characters. Alas, Guinea Bissau had not gotten permission to use these copyrighted figures from Studios Hergé who came down on them like a ton of bricks and forced them to remove the bottom left stamp and sell the resulting sheet of three stamps and two labels. There are still some intact sheets around (Fig. 35), however, they command a premium price over the "official" mutilated sheet. A First Day Cover of this souvenir sheet is especially elusive; grab it if you see it (Fig. 36).



Click on any image for a full-size image of the stamp or cover.
For additional images, click on items shown in BLUE type.

Algeria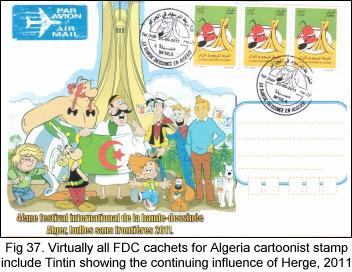 The largest country in Africa, Algeria (officially the People's Democratic Republic of Algeria) won its independence from France in 1962 after a bloody 8-year campaign of guerrilla warfare. What comes after independence? Home- grown comics, of course, which were first published in 1967 in the weekly Algeria News and then, in 1969, in the newspaper El Mujahid, one of the oldest and best known papers in the Arab and African world. Until then people in Algeria had been enjoying comics from the French-speaking world like Spirou, Asterix, The Smurfs, and, of course, Tintin. Needless to say, these earlier French comics, and especially Tintin were a great influence on the young Algerian artists.
Forty some-odd years later on September 25, 2011 at the 9th Algerian Arts Festival a pair of stamps was finally issued to honor Algerian comic book artists. What was a bit surprising was that most of the artists who produced First Day Cover cachets included Tintin, either alone or as part of the design (Fig. 37) thus recognizing Hergé's continuing influence on the comic art of the country.

Monaco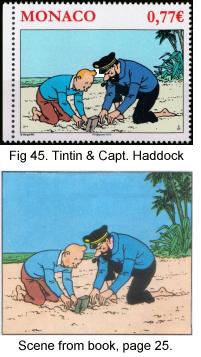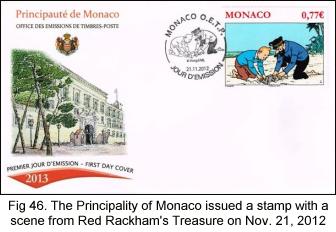 The Principality of Monaco, a sovereign city state located on the French Riviera, is the second smallest and most densely populated country in the world. On November 21, 2012, the Casterman publishing house released the third installment of the Adventures of Tintin in the Monégasque language. (Monégasque, along with other Ligurian languages, is derived directly from northern Italian languages of the Middle Ages. It is spoken in the old part of Monaco, taught in schools, and street signs are marked in Monégasque in addition to French.) The third Tintin book in Monégasque called "U Tesoru de Rakamu u Russu" (Red Rackham's Treasure) follows "I Ori de Castafiore" (The Castafiore Emerald) and "U Secretu d'a Licorna" (The Secret of the Unicorn). To commemorate this event a stamp created in collaboration with Moulinsart, was issued by Monaco on the same day. The stamp, Scott 2697, depicts Tintin and Capt. Haddock digging up the remains of the "jolly boat" on which Sir Francis Haddock came ashore on the island. This scene appears on the bottom left of page 25 of the book, Red Rackham's Treasure.

Japan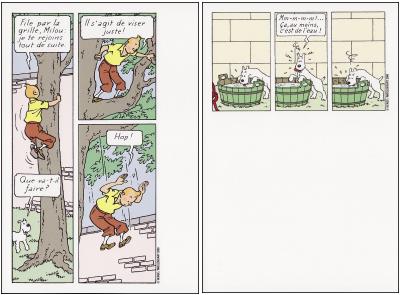 Five Tintin designs were printed on the face side of generic Japanese post cards with a face value of 50 yen (domestic post card rate) in an issue about which practically nothing is known. They were issued on June 20, 2000. They seem to have been produced by Japan Post but it's possible that they were privately produced (like the cards from China and India). They are listed on two web sites, japanesestamps.net and philatelics.jimdo.com, but the cards are only sold through eBay. Prices are quoted in dollars (a rather outrageous $20 for the set of 5, which have a face value of 47¢ each or $2.35 for 5). They are quoted with a catalog number of JPC 436, but that may be a dealer stock number. I could not find them in any Japanese catalog, although I confess I do not know the language. The cards measure 5.8" x 3.9" and are printed on high-quality glossy stock. They come in an outer envelope with a color illustration printed, "Tintin and Snowy" and have an inside explanatory cover sheet. All in all, a very nice but curious item.

Abkhazia, Somaliland, and Other Self-Declared Independent States
Over the years, many regions and provinces such as Quebec, Scotland, Catalonia, Croatia, Latvia, Eritrea, Puerto Rico, Greenland, Nevis, Veneto, Lugansk, and others have attempted to become independent soverign states with varying degrees of success. Some try to appear independent prematurely by issuing stamps and currency, again with varying degrees of success. Abkhazia is a disputed territory and partially recognized state controlled by a separatist government on the eastern coast of the Black Sea and the south-western flank of the Caucasus. It is recognized by Russia, Nicaragua, Venezuela, and Nauru. The United Nations and most of the world's governments consider Abkhazia a part of Georgia's territory, though Georgia is not in control of it. Go figure.


So if you're a minister in Tbilisi and want some recognition and foreign exchange, why not issue some Tintin stamps with a denomination of 23 Russian rubles (about 75¢ when issued but only 42¢ in late 2014). And issue them they did! There are four sheetlets of 8 different stamps each and each stamp has also been issued in an 8-stamp sheetlet by itself. There are also imperforate single-stamp "souvenir sheets." Strangely, these stamps are seemingly not available in Abkhazia itself but only from the on-line store (Newshop2012) of Celia Moreno, a friendly dealer in Valencia, Spain who lists them on the Delcampe and Bidstart auction web sites. They're colorful, big stamps measuring 1.9" x 1.35" each. If the stamps have a true value of 42 to 75¢, Celia's prices are very fair but if, as I suspect, they are essentially worthless, well, what can I say but caveat emptor.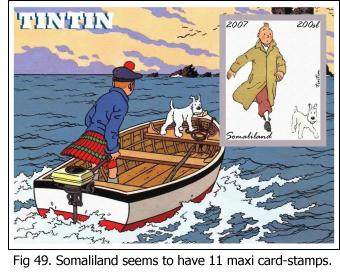 Somaliland is a self-declared independent state that is actually an autonomous region of Somalia. Since 1991, the government of the territory has been seeking self-determination as the Republic of Somaliland. However, at this time Somaliland's self-proclaimed independence remains unrecognized by any country or international organization. The Somaliland shilling, is not an internationally recognised currency and currently has no official exchange rate, which make the issuance of currency and stamps rather problematical. The actual currency in use is the Somali Shilling with a real exchange rate of about 825 per dollar.
As with Abkhazia, Somaliland "stamps" are available from Celia Moreno in Spain and seemingly not in Somaliland itself. But who knows? The 1.7" x 2.1" stamp images are printed on maxi-card size (4.4" x 5.9") heavy stock (not cards), imperforate, dated 2007, with 11 values from 100 to 1100 shillings (12¢ to $1.33). The card has part of the cover design from the Tintin book, The Black Island with the "stamp" in the upper right. Celia sells the cards, any denomination, for 5.80€ each, which suggests they have no real value for postage.

Romania, China, India, Fakes, and Cinderellas
Concurrent with the release of the Tintin movie in 2011, about 150 different stamped postcards suddenly appeared from China with images of book covers, stills from the movie, and portions of book pages printed on the back of standard 80-yen (domestic rate) stamped postcards (Fig. 38). China Post prints scores of picture postcards each year, but these Tintin cards of apparently pirated images seem to be the work of four or five enterprising vendors in the People's Republic. They are marketed heavily in Europe on the Delcampe auction web site and tend to sell for rather outrageous prices of 2 to 3 euros each.


A vendor in India also produced an unknown number of postcards with designs printed in rather poor quality on the left side of the address side of the card priced at a usurious 3.99 euros each (Fig 39). A side note: it was EuroBooksIndia of Mumbai that in 2008 published the first English translations of the 11 Quick & Flupke books by Hergé, which are still not available in the rest of the world.
In conjunction with an International Comic Strip Salon (Exhibition), Romania issued a 50-bani domestic mail envelope on October 13, 2005 with a colorful illustration on the left picturing many comic strip characters. Tintin is hiding in the right center and his moon rocket is blasting off above the crowd (Fig. 40). There are no known FDCs of this piece.
Angola, a country in southwest Africa, also issues hundreds of thematic stamps. But in addition, Stampdile Ltd of the UK produces totally illegal Angola stamps including, in 1999, a series of 4-stamp sheetlets under the banner, Countdown to the Millennium. The upper right stamp in the sheet covering the decade 1920-29 pictured Tintin, but of course the stamps are postally invalid (Fig. 41). Celia Moreno in Spain also has these sheets and a fair number of additional Angola items available in her on-line shop.
Another excellent quality but totally fake souvenir sheet was probably also produced by Stampdile in 2004. The text on the sheet in is Russian and reads, loosely translated, "75 Years of the Belgian Hero in European Comic Books, Tintin" (Fig. 42). Some on-line sellers are optimistically pricing this fake souvenir sheet at almost $70.00!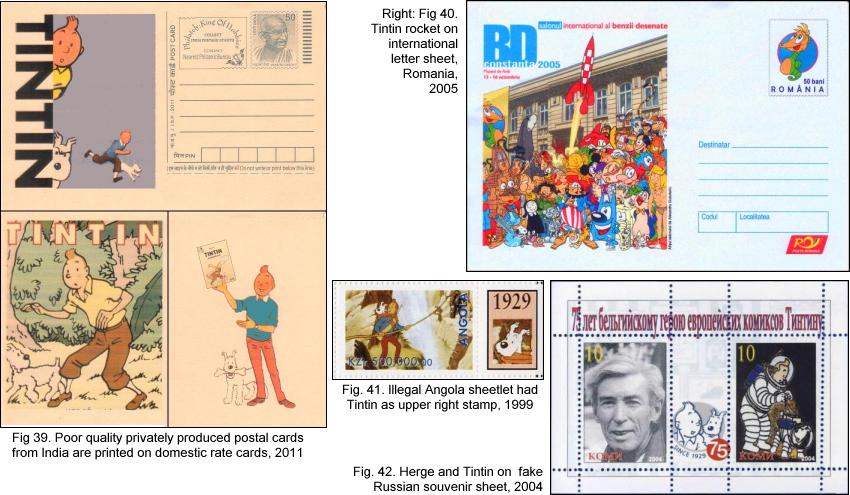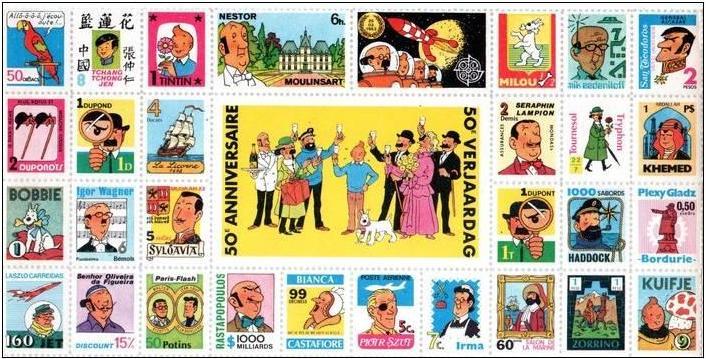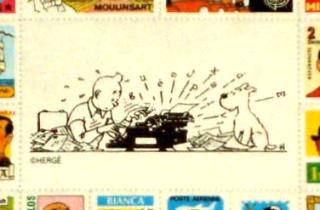 Over the years, stamp-like labels have been produced as chocolate bar wrappers, promotional items, and just as label sheets to sell to Tintin enthusiasts. Perhaps the best quality labels were produced in 1979 by an unknown printer for the 50th anniversary of the first appearance of Tintin in print. These very clever labels were produced to look like stamps and were produced in three sheetlets of nine each and also, with some slight revisions, in a large sheet of 28-stamp-size labels plus two double-size ones around a central large label reading, "50th Anniversary" (see Fig. 43 above).
This label sheet was also produced in a very limited edition with a different center image of Tintin furiously typing at a typewriter (as a reporter would) with Snowy sitting at the side. Kudos to the first person who can tell me in which Tintin book this image appears. Although Tintin is a reporter, it is actually rare to see him doing anything but getting involved in varous adventures.
Four similar sets of nine labels in a horizontal design called "Tintin and Friends" were also produced in France in 1979 and sold for 0.50 francs per set by the Samaritaine department stores.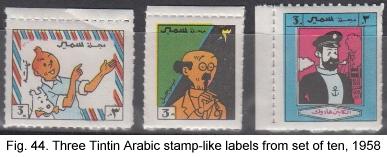 Another group of at least ten stamp-like labels in Arabic were produced in 1958-60 in Egypt (Fig. 44). A sheet of labels was periodically included as a bonus with the comics magazine Samir.
Finally, many other fake Tintin stamps abound. A 2004 article by Roland Francart in Philabulle lists more than 40 faux stamps in 9 separate issues, and the number has probably doubled since then. Tintin collectors: have fun but be careful.

References:
1. All Hergé (Almost) in Philately, Roland Francart, Philabulle (Quarterly Bulletin of Friends of Philately), May 2004, Belgium (French language). Also updated article, same title, May 2007.

2. Belgian Comic Hero Stamps - Alix to Zorglub, Roland Francart, Philabulle, December 2010, Belgium.

3. Illegal Stamps: Philately's Rough Trade, J. M. Chute, Association of Philatelic Web Publishers (Internet article), 6/21/02.

The Author:
A life member of the APS and AFDCS, David Ahl has been collecting and exhibiting stamps and covers on a wide range of topics since World War II. He founded the first personal computing magazine, Creative Computing, in 1974 and has written on subjects from the Bible to global investing and from military vehicles to New Zealand. Wander around on his wild web site at www.SwapMeetDave.com.

---