1,000+ Tintin Covers: Actual Book, Pastiche, Parody,
Imitation, Farce, Staire, Fake, Mockery, Pirate,
Mimic, Scoff, Joke, Spoof, Fantasy ~ Page 4

by Dave Ahl (aka SwapMeetDave)


More than 1,000 Tintin real, pastiche, imitation and parody covers are on these pages. A pastiche is a work that closely imitates the work of a previous artist, usually distinguished from a parody in the sense that it celebrates rather than mocks the work it imitates. You will find some of these along with others that have been variously described as an imitation, parody, farce, staire, pirate, fantasy, spoof, fake, mockery, mimic, counterfeit, humorous, forged, foolish, or silly cover.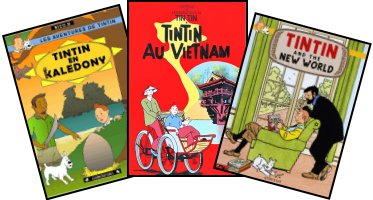 This is page 4 on which you'll find covers inspired by Tintin books but with a different style or design. Lots of weird stuff in this group. Some are just sketches and not finished covers at all. I've tried to weed out covers of real books and videos about Hergé and Tintin, magazine covers, and advertisements (like for the Citreon 2CV), but some almost surely slipped in.
Page 1 has real covers, imitations and parodies of the first ten Tintin books plus information about the artists. Page 2 includes real covers, pasticles and spoofs of books 11 to 24 plus three videos.
Then Page 3 shows imitations in which the design, type, and layout is generally similar to a genuine Tintin cover. This category includes covers for other characters and people (the Duponds, Flinflins, Clinton, etc.). These are at covers similar to actual Tintin books.
Page 5 is a CONTEST which challenges YOU to design a Tintin imitation, parody, or fake cover. It has the rules of the contest, downloadable Tintin type font, and images of some other characters to get you started. Budding artists, don't miss this page!
In addition, there is an excellent web site with many covers and illustrations by Rick Flashman of Tintin in Borduria, a fictional fascist country in the Balkans depicted in King Ottokar's Sceptre and The Calculus Affair. I've included a few of his covers here, but I recommend a visit to his site where you can pursue his entire selection.
Another outstanding web site is the blog of Martin le Malin which has many, many pages of covers, artwork, and discussion (in French but much in English too!) about Tintin, Herge, piracy, plagiarism, parodies, and more. With contributions from guest artists like Bob Garcia, Nick Rodwell, and others, this is a site not to be missed.
---
---
This is not a blog. My experience is that blogs get cluttered with a lot of irrelevant comments and it gets harder over time to find the "meat" of the site. I welcome comments and submissions via e-mail (use the "Send Mail" button), and I will post appropriate ones on these pages. My web site (SwapMeetDave.com) gets about 7,000 visitors every day, which leads to a lot of e-mail. I read it all and try to answer as much as I can, but I'm just one retired guy with a lot of other stuff on my plate as well as this web site. So be patient with me. Thanks!
The illustrations. If you click on any thumbnail image on this page, you'll get to see the biggest one I have in a separate window. Where I had gigantic images, I reduced the height to a maximum of 800 pixels. In some cases, all I have is a tiny image; sorry about that. If you have a better quality or a missing illustration, please e-mail it to me at SwapMeetDave@aol.com.

---
Covers based on Tintin books, but with quite different designs
There is no good way to arrange these covers. I've put some simlar ones by the same artist togeter, but for the rest, they are simply in alphabetical order by the first main word in the title (other than Tintin).

By Alexander Orah

By N. Senthilkumaran

Next 5 by Dan Hipp

Next 4 by Luke Kage

By Mike Mignola
• • • Click on any image to see the largest available image • • •

Many variations of these at

Martin Le Malin blog

By Kielland

By von K

By Charles Burns

By Bernard Meysonnet

By LeGall

By Daniel Garber

By Leena Kill

By Celine Poutas
• • • Click on any image to see the largest available image • • •

By Remi Lucas

By J Daniels

By Herbil Alger

By Paul Kinnet

By Deathly Dollies

By Jan
• • • Click on any image to see the largest available image • • •

By Staffan Millqvist

By Donosti

By Andy Ventura
• • • Click on any image to see the largest available image • • •

By Virginie Despentes

By James Cooper

Honoring Last Light by Charles Burns

By Zeikai

By Francis Blanche

By Eberoni

By Keith Haring

By Antonin Riberty
• • • Click on any image to see the largest available image • • •

By Geerts

By Remi Lucas

By Par Mitak

By Simon Mackie

By Isuru

By Clytemnon
• • • Click on any image to see the largest available image • • •

Left: The correct translation of the Russian title of this cover is "Mysterious Star of Tintin." This cover is often seen as a mirror image with the incorrect title, "Rahyo by Le Dub," which makes no sense at all.

By Yazuri

By Keith Haring

By Varenne

By Itomibhaa

By Harry Edwood

By Alain Ribière
• • • Click on any image to see the largest available image • • •

By Muzski

By Emmaraudeur

By Pierre Sterckx

By Csaj

By Cabanes

By Twigcyl

By Ted McCagg

By Jacques Tardi
• • • Click on any image to see the largest available image • • •

Next 2 by Isuru

By Leena Kill

By Bispro

By Jo l'Indien

Click to see 2 variations
• • • Click on any image to see the largest available image • • •

By Itomi Bhaa

By Jo Hell

---

Covers with other characters: Herge, Haddock, Judy, etc.
These covers are loosely based on Tintin books but feature other people and characters. There are many Blake and Mortimer covers similar to Tintin ones, but I did not included those.

By Stanislas Barthélémy

By Philippe Lombard

By Bob Garcia

Bob Garcia/Harry Edwood

By Kurt Komoda

Left: On Kurt Komoda's blog, he says, "I did a quite bit of work on the clock tower, thinking it was such a nice composition before realizing that it would all be hidden behind the title scroll." Click the link above to check out more of Kurt's great illustrations.

---

Illustrations only, strange dimensions, or other wackiness
These covers feature Tintin but are overly wide or narrow. Others are drawings only with no type or lettering, or it is in the "wrong" place. Also here are covers that are just plain strange. If you want to go nuts over Tintin drawings like these, there are more than 13,000 of them on the Deviant Art web site. Check it out. BTW, there are many covers for horizontal format books but I had to stop someplace, so they are not included here.

| | | | |
| --- | --- | --- | --- |
| By Marissa Greenfield (TandP) | | | |


By Lama Mama

By Deathly Dollies

| | | | |
| --- | --- | --- | --- |
| By Juanele | | From Nous Tintin, pg 9 | From Nous Tintin, pg 8 |
---
---
© 2013. Web site design by Dave Ahl, e-mail swapmeetdave@aol.com