Building a VW-Based Dune Buggy
Back in early May, 1969, I (Dave Ahl) bought a well-used VW bug from Al Kuehn, my boss at Market Science Associates, with the idea of turning it into a dune buggy. I had done a fair amount of engine work in my teen years, but this was my first major project. I got a neat book by mail, "Building Your VW-Based Dune Buggy" that was actually 98 pages of typed instructions and photos self-published by Peter Ezzell and John Quan in San Diego. First step: remove the old body. The book says, "while four men can handle the body, it is heavy and cumbersome, and the best way to remove it is..." Well, I didn't have four men available, so my friend, Dave Schmidt, and I proved that two determined men could actually do the job.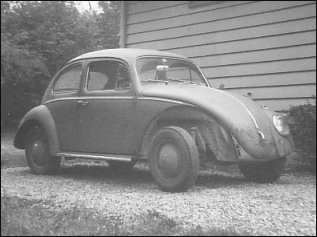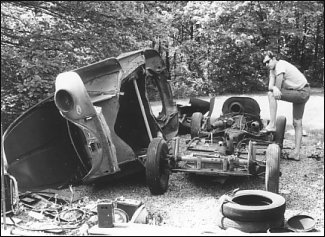 Since the engine had thrown a rod and was seized up and I had never seen a VW engine before, I got the book, "Fix Your Volkswagen" and by following the instructions managed to rebuild the engine. I got the cranksahft reground at a local machine shop in Pittsburgh, but other than that, did all the work on the floor of my musty garage.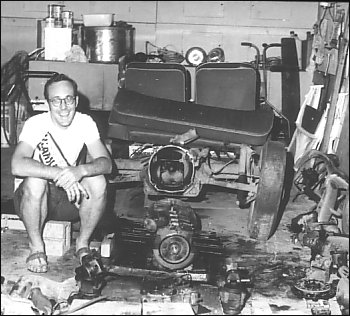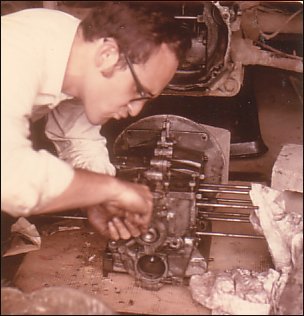 I won't bore you with everything that had to be done, but modifying and decambering the rear suspension was a major job. A couple of aftermarket parts companies made adjustable spring arm sets but they were expensive. For about half the price of new arms, I could have gone to a shop that had one of those special protractors for making precise suspension changes. But instead I opted for the cost-free but time-consuming method that the authors simply called "trial and error." It consisted of 13 laborous steps that had to be done over and over until you got a negative camber angle of 2 degrees under load and hard cornering. Yikes!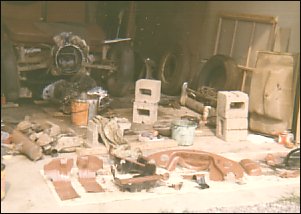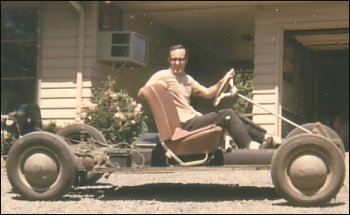 After that, fitting the new body, installing the controls, making up wiring harnesses, and putting the whole thing together was a piece of cake (on a relative basis). Start to finish, working evenings and weekends (except for time off to go water skiing), the whole project took about two months. Not bad, eh?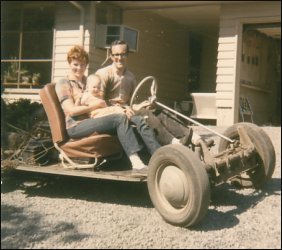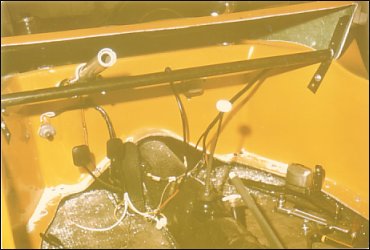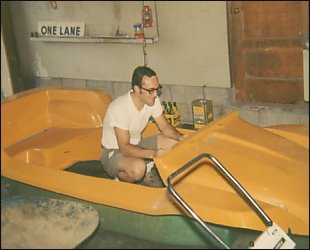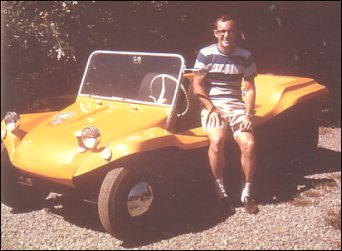 Several months after putting up this web page, who should stumble upon it but John Quan, the author of the book I used. Here are John's comments:



Hi Dave:
In 1969 Pete Ezzell and I wrote that book during Easter vacation at San Diego State University. We had each built several buggies and were friends with manufactureres of Fibertech, Meyers, and others. We were about 22-23 years old. My wife, Darlene, typed the original book as we wrote the chapters on an old Smith Corona electric typewriter. We hired a neighborhood printer to do do 1,000 copies for $1,000. We sold those first 1,000 copies in a month. VW based dunebuggies were hot!!
Then J.C. Whitney Co (the big mail order auto parts company) contracted for 5,000 more copies and we were off and running. Our publishing venture went well and we did a 4-wheel-drive and Corvair book.
Pete went to law school and is now a top corporate lawyer in LA, while I became a real estate broker in San Diego. The VW book was the springboard to real estate, travel and business experience in our lives. It was so very odd and interesting to see your site after all these years. About 10 years ago my son brought a friend of his over to the house to ask if I was the author...he used it to work on his VW bus! Thanks for the memories!!




Into automotive stuff? Click on "Military Books" below for some nifty book bargins.
---