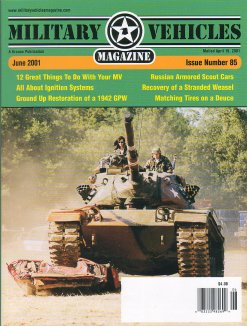 Military Vehicles Magazine
Back Issues



As the previous owner and publisher of Military Vehicles Magazine, I have a number of back issues available for sale. The new owner, Krause Publications, does not sell any back issues at all, so only the ones listed here are available. Be sure to send your back issue order to me, David Ahl, 12 Indian Head Road, Morristown, NJ 07960 and not to Krause. Back issue orders sent to Krause will not be filled and may or may not be forwarded to us. There is a lot of good material in these back issues, but they won't last forever. In the past seven years, we have sold more than 45,800 back issues and we have fewer than 650 left as of today. So order now.


Keep 'em rolling, Dave Ahl








For subscriptions, go to Military Vehicles Magazine on my Links page.
---
The following issues are SOLD OUT. Please DO NOT order them. #1 to 8, 10 to 19, 21 to 29, 32, 35, 37 to 44, 48 to 52, 54 to 57, 59 and higher (except for 76 and 80).

---
Back issues are available individually at the following postpaid prices in the USA: 1 or 2 issues $5 ea, 3 to 5 issues $4 ea, 6 to 15 issues $3 ea, or all 17 issues for $43 ($45 if paid with PayPal).

#9-AUG/SEP 1988: Servicing Wheel Bearings (10-page how-to); Early US Military Motorcycles; What to Look for in Buying an MV, American Military Museum; M38 Interim Changes; Vehicle Markings (1942); 1st Dodge Power Wagon Rally; M38 changes; Tactical Vehicle Fleet (CUCV and HMMWV); Fixing M151 Clutch Pedal Binding Problem.

#20-JUN/JUL 1990: All About Front End Shimmy (11.5 page how-to); Collecting Communications Gear (Part 3); Effect of Non-Leaded Gas in MVs.

#30-MARCH 1992: DUKW History & Use; Restoring Korean War M46 Tanks; M274 Mule Specs & Description.

#31-MAY 1992: Rewiring the MB/GPW Jeep (10page how-to); Battery Isolator Switches, 24-volt Connectors; Rescue of Ford GPW-327; 4 cover photos of rare Willys MT-TUG 3/4-ton 6x6.

#33-SEPTEMBER 1992: Evaluating a Military Vehicle; 100 amp Electrical System (6 pages); Proper Use of Clutch; USMC Museum at Quantico; Tech Q&A.

#34-NOVEMBER 1992: Scout Car Test Drive (12 pages); Buying MVs at Auction; Towing Your MV; Central Mfg Follow-up; Reusing Douglas Wire Connectors.

#36-MARCH 1993: GAZ 69 Russian Jeep (Part 1); Jeep Turn Signals, Rescue and Research on Ford GPW #327 (Part 2); Camp Pendleton 50th Anniv. (Part 2).

#45-SEPTEMBER 1994: Saving and Restoring a 10-ton truck; Complete List of 80 Ford MV Contracts of WWII; Ft Hood Museums; Tanks for Reefs; Leftover MVs in Europe in 1994.

#46-NOVEMBER 1994: Iola, WI Show; Forces of the Future (Part 2); Heart of Dixie 1994 MV Rally; Tanks Available to Qualified Groups.

#47-JANUARY 1995: Virginia Museum of Military Vehicles 1994 Rally; 45th Infantry Division Museum.

#53-JANUARY 1996: Jeep Engine Trouble-shooting; New Rifle Bracket (1942); lola Show; Camp Meade, VT Retreat; Convoy of Hope.

#58-NOVEMBER 1996: M5A1 Light Tank (Part 2); Visit to Tom Murray (dealer profile); Equipment Lists for Infantry Jeeps; MVs on the Internet; M44 Armored Utility Vehicle Specs; M16A2 Self-Propelled Gun Specs; Confiscation of MVs.

#76-NOV/DEC 1999: HMMWV Auction, Buying a Sandblaster, Oil & Lubricants (Part 1), Clean Your Air Cleaner (6 pages), King Michael of Romania and His MVs; Hinge for M37 Tool Box; Light Vehicle Drivers Course; 28 photos from British Shows; 10 M37 Add-ons; Using Unleaded Gas; Tech Topics; Registering a HMMWV; For Veterans.

#80-JUL/AUG 2000: All About Gauges (6.5 pages); Welding Basics; MB Spare Parts Kit; Emergency Gear for Your MV; Rust Removal, Deuce: the Ultimate Camper, XR311 Reconnaissance Vehicle, Harley XA Motorcycle; Rebuilding a Half-Track; Tech Topics.


---
Use this page as your Back Issues order form. or click here to print a PDF Order Form.

You may reserve what you want by e-mail and I will hold it for five business days until your payment arrives. I ship immediately upon receipt of your payment. If you wish to pay using PayPal, e-mail me for instructions.

Prices include postage in U.S.


Canada: first 2 issues are postpaid; add $1 for each additional issue)
Foreign: e-mail me for postage and payment procedure to SwapMeetDave@aol.com
UK customers should e-mail me about making payment in sterling to my British agent.



1 or 2 copies $5 ea         3 to 5 copies $4 ea

6 to 12 copies $3 ea        All 14 issues for $35 ($37 if paid with PayPal)

Circle the issues you want:

 9     20     30     31     33

34     36     45     46     47

53     58     76     80



Name ____________________________________________



Address _________________________________________



_________________________________________________



City ____________________________________________



State, Zip ______________________________________



E-mail address __________________________________



Amount enclosed $___________


Please make check or money order payable to David Ahl.
Mail this entire page with your payment to:


David Ahl
12 Indian Head Road
Morristown, NJ 07960, USA






© 2010 • Web site design by Dave Ahl, e-mail SwapMeetDave@aol.com • Page last updated