Jesus at the Beach


Below are photos of three of the fantastic sand sculptures of Randy Hofman on the beach at Ocean City, Maryland. Randy creates a new sand sculpture each day as the ocean tides wash away the previous one. The artwork is absolutely awesome and is seen by thousands of people every day. Can you imagine the talent and fortitude needed to create a new sculpture every day, knowing that it is just going to be washed away? Incredible!

A "Jesus at the Beach Christian Music Festival" is held at Ocean City each year in late July or early August (call 410-289-1296 for more information). Here you can join others for praise, evangelism, and fellowship at the convention center from 10 a.m. to 1 p.m. each day and for music on the beach at N. Division St. each evening from 7 to 10 p.m. Gary Steger, director of Sun'Spot Ministries, which organizes Jesus at the Beach, makes a practice of not announcing the names of musicians and ministries which will participate in the evening meetings. This way, he says, glory goes only to Jesus and not to men or ministries. He acknowledged that some are local groups and some are well-known recording stars.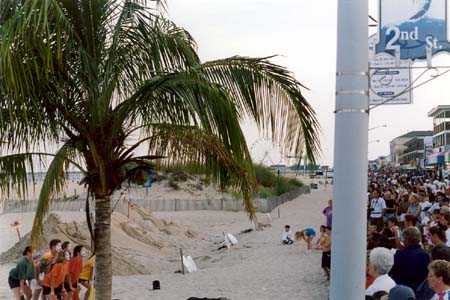 Beach ministries at the sand pile. Summer 2002.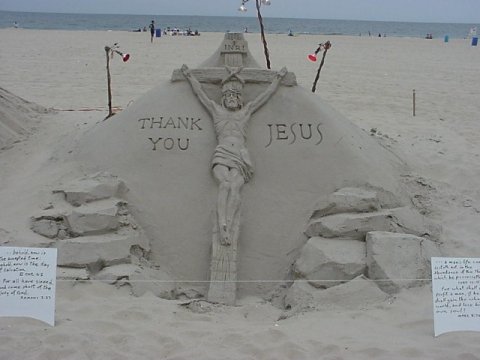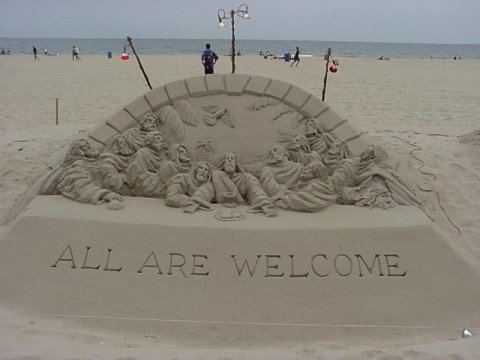 The last supper.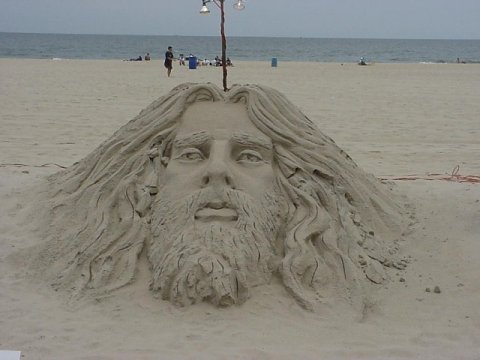 "Face of compassion."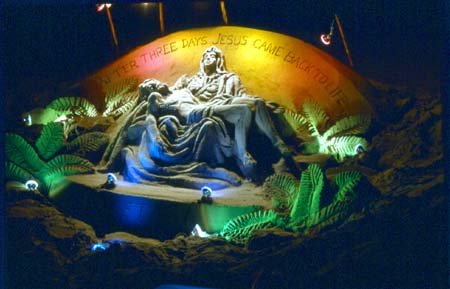 "After three days, Jesus came back to life."

To view more of Randy's sand sculptures and paintings, learn more about the man, or buy something
from his gift shop, click here to visit Randy's web site at www.RandyHofman.com.
This page is brought to you by www.SwapMeetDave.com
---
---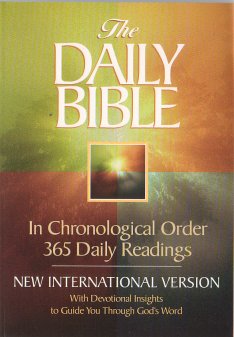 After reading various Bibles for 30+ years, finally finding a version in which everything is in the correct chronological order really made it all come together for me. This NIV translation with a narration by F. LaGard Smith puts the minor (and major) prophets where they belong and clearly shows how Paul's missionary journeys spread Christianity in the early years. It also has a summary of the events between the Old and New Testaments. In fact, I liked it so much that I bought a carton of The Daily Bible in Chronological Order which I'm selling at the wholesale cost of $14.50 (plus $2.50 packing and postage in USA - $17.00 total). I accept cash, check, or M.O. If you choose to pay with PayPal, please add $1.00 to cover their commission charge to me ($18.00 total) and direct your payment to SwapMeetDave@aol.com. Mail orders should be sent to:

David Ahl

12 Indian Head Road

Morristown, NJ 07960



For more good book bargains, click on "Inspirational Books" below.

---


United We Stand Ted Nugent




© 2006. Web site design by Dave Ahl, e-mail swapmeetdave@aol.com